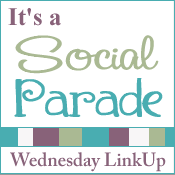 This week is Google Friend Connect Round Up!!
It's a Social Parade - Wednesday Link-up is a weekly link-up hosted by
Smart and Trendy Mom
To participate
•Follow the blog in the first spot via Google Friend Connect. All blogs participating must post about Social Parade and link to that on the linky
•Link-up your blog post for "It's a Social Parade" that you made on your blog. This week you need to include your fanpage link in the post for others to Like/Fan you back.
•Follow as many as you like commenting on their POST as you do so they can follow back!
•If you do not make a post and link that up, it is unlikely that someone will search around for a post to comment on.
Hope you stop by and if you are new Welcome! You will find my buttons on the left hand side of my blog- I hope you will follow me either through google connect friend, facebook, or twitter.